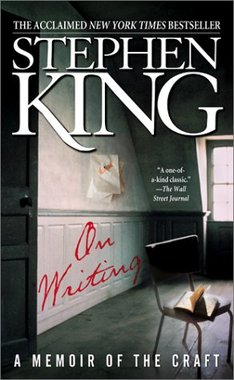 On Writing: A Memoir of the Craft by Stephen King
A non fiction book about writing. Not as grammar or style oriented as Strunk and White's The Elements of Style (which I got for my birthday, BTW :) ), it talks about general stuff rather then details.
A couple of notes from it:
about his life (how he got to the first published book, Carrie, who inspired him, about his not so easy life before becoming successful)
about writing (he wrote short stories that sent them to various magazines during his high school and university period)
about his accident (happened in the same period when he was writing this book)
a second draft example (2nd draft = 1st draft - 10%)
a list of good books to read (Bill Bryson's A Walk in the Woods, one of my favorites is there too)
a good writer must read a lot and write a lot
I recommend this book to anyone who's interested in writing, as a career or hobby.